How a Flash Mob Helped Me Breathe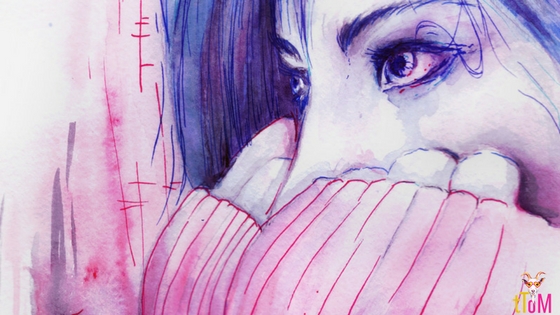 I stepped onto stage four weeks after she shot herself.
It does take a village and the strength of every inner ounce of passion you have to overcome grief that shocks your insides more than life.
A year and a half ago my niece committed suicide by shooting herself. Which we were told is rare for women to do, typically I guess they take pills. She was 23 years old it was a week before her birthday and before she was set to fly from Idaho where she was ,to CA to visit me and our family.
I hadn't seen her in a few years but spoke to her often. She had been struggling with medical issues after a severe drunk driving car accident that she was in. The driver of the car she was in was drunk…
The night of her death I had left my cell phone at work and immediately when I left work I realized it. Ugh!!! I don't want to drive back just for a phone everyone is so tied to their devices I could go without it for one night and it would be right where I left it. So I continued home.
An hour after I got home Orlando was upstairs working and came downstairs saying that my brother had called me on his cell because he couldn't reach me on mine. I answered the phone and through sobs that were sounds I have never heard from my brother he was finally able to catch is breath to get out "Brianna shot herself." I crumbled to the floor and said I just talked to her a few days ago. That couldn't be.. "Is she okay"….She wasn't okay, she was gone. He cried harder and said that she had texted him I love you and he had responded I love you too munchkin.. He then cried and in the most gut wrenching voice said, "why would she do that…."
I couldn't see straight. I knew she had been in pain and the doctors kept just prescribing her more drugs instead of solving the pain… But we talked and she was excited about seeing us all and we planned later in the year to come see her new apartment and stay in her spare room.. I couldn't believe the little girl that had fit so snugly in my arms between my elbow and my wrist was gone. Someone that when I went to college called me at age 5 saying "I can't wait to get out of kindergarten to go to college with you." She had moved in with me as a teenager. I helped teach her how to drive and am sure some grey hairs started during that time. I gave her her first real job and then we went christmas shopping where for the first time she got to spend her own money to buy people she loved gifts. She was so excited with a giggle that would make anyone happy… what was happening?????
I rushed to work immediately to get my phone hoping it would provide answers. I picked up my phone and my heart was pierced with razor blades. She texted me that afternoon she loved me. I had been so busy I didn't see it. I died with her. I truly did. I kept thinking of the games kids play using a sign to make decisions. I kept thinking what if she sent all the people she loved texts and if everyone wrote back then she wouldn't go through with her plan….. And I didn't respond..
I cried.. Then I called friends to lean on. I had a conference in a few weeks where my company would be hosting over 1000 people and I had just choreographed the flashmob we were going to launch the show with. I called my friend Erik and he said let me take care of it and he and my friend Erin edited the video and Erin learned the dance so I could have just one shot of the full dance..
I flew to Idaho to go to the funeral taking most of the family. I checked my email and coworkers told me not to but something about it calmed me. I could control this at least.
After I get back I trudge into work trying not to cry and mustering up my inner warrior. I was thankful to my coworkers for their strength when I didn't have it. The few people in the community I work in sent love and prayers as well. This was clearly the hardest time in my life and the community I worked in and the friends I had in my life surrounded me with such love and strength that somehow I managed to get one foot in front of the other..
A few weeks pass, pain was so raw that I just took it one day at a time crying nightly and breathing.
Breath misty.. In out. Amazing how hard that can be when it feels like an elephant is sitting on your chest.
Fast forward a few weeks…I got majority of the vendors to show up to learn the dance for the flash mob opening number. Throughout rehearsal we laughed danced our butts off and got ready for opening day..
The next morning I woke. Knowing it was another day without Brianna knowing my entire family was dealing with the shock, the unexplainable gut wrenching grief.
I breathed in and out…
The sound engineer helped me with my wireless mic. I did jumping jacks to get my energy up…I told Brianna this was for her.
My music cue blared and I felt the base in my heart.
I ran out on stage and welcomed the crowd with true joy as I know each one of them have surely suffered loss or difficulty in their lives and today was a day to celebrate each other. To say hello face to face and be filled with delight that you are sharing a room with friends.
We took a collective breath in and out…
Then the cue came and the vendors small group by small group danced to Pharells song Happy… There were vendors that were typically very competitive with each other dancing the same dance. They were pouring out joy through their smiles and finger tips. It was this magical moment for me that everyone dropped their differences and let go of their worries and just collectively were dancing "clap along if you feel that happiness is the truth!"
The Happy song will always remind me of the power of a community, the strength to choose happiness when you can barely lift yourself out of bed. The ironic thing is I danced so hard I couldn't breathe, but for the fist time in four weeks the lack of breath wasn't from pain but from letting go of a little bit of it and allowing my friends to help me carry it.
I don't know if the vendors that day knew what they gave me, or the audience or my friends but if any of them are now reading this I want to say thank you to everyone that helped me breath that day.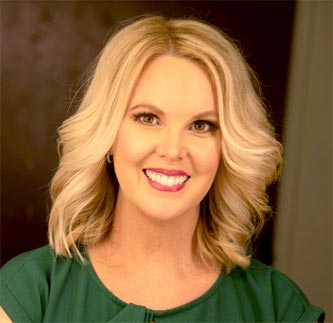 10 mistakes
even seasoned presenters make!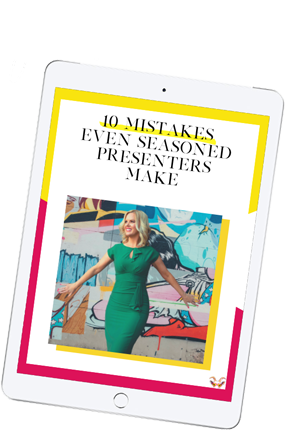 Your team's success depends on their ability to speak with clarity. Give them the tools to meet the moment with professionalism.
Take my 6-week on-demand course with live group coaching to deliver big messages that motivate and inspire.