Muscle Memory is Failure's Kryptonite
Click Here To Listen To This Post
The most nerve-wracking part of any live performance or speaking engagement are the variables out of our control – the deck not showing up, the mic going out, the lighting not going as planned. In light of these various possibilities, it becomes increasingly important to be as prepared as possible.
If you've worked with us, you know we are big on the pre-work before hopping on stage. Creating repeatable strategies from building out your outline to scoring your script and being selective about everything during the rehearsal process – all the body language choices, stage movement, vocal variation, down to every hand gesture.
Committing to the pre-work is necessary to not only ease your anxiety but to also build your confidence. The more prepared and comfortable you are with your script, the more your delivery is ingrained into your muscle memory and the less you have to actively judge yourself and be stuck in your head, trying to think on the spot what story should I share or can they see me if I move to this area. Every preparation tactic is one less decision you have to worry about making while up on the stage.
Once you've taken the stage, you shouldn't have to wonder "Oh, how should I say this line?" or "Oh, I shouldn't have used that hand gesture on that line." Instead, those choices need to be made during rehearsal so you can spend your time on stage being present, enjoying yourself, and focusing on your audience. Trust me – your audience will FEEL the difference in your presence if you've done the pre-work. It shows! And you'll feel the difference within yourself too.
This preparation also allows you to pivot should any technical or sound difficulties occur. If you're so clear on your script, you don't need to rely on a deck to deliver it should your slides not work. If you are so clear on your body language and movement choices, you can perform whether they place you on stage or in another part of the room.
One of the best things you can do for yourself when preparing for a speaking engagement is to have your presentation live in your muscle memory as much as possible. Muscle memory is failure's kryptonite for 3 reasons:
It protects you from feeling frantic and forgetful the day of your presentation.
It equips you to tackle any other variables that may present themselves.
It truly allows you to enjoy the process that much more.
Remember, the audience came to see you speak for a reason. Preparing is a way of not only honoring your full potential but of also honoring the audience's time. They want you to succeed so they can also learn from you! Enjoy the process of sharing your truth with them, watching their eyes light up, and wowing them with your brilliant message!
Much Love,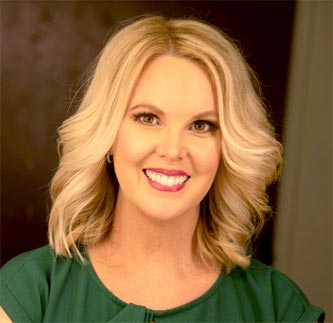 10 mistakes
even seasoned presenters make!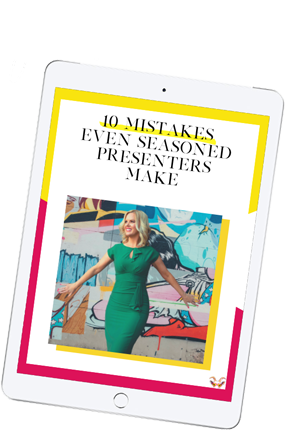 Your team's success depends on their ability to speak with clarity. Give them the tools to meet the moment with professionalism.
Take my 6-week on-demand course with live group coaching to deliver big messages that motivate and inspire.