Why Your Greatest Weakness is a Strength
Click Here To Listen To This Post
If you've ever felt anxious, you know how it can manifest physically. A quivering voice, closed off body language, avoidant eye contact, distracted conversation, rambling responses are just a few of the signs. In the professional space, there are moments we may need to comfort and conceal that self-doubt.
However anxiety manifests for you before going into a meeting or professional setting, there are certain things we may do to feel prepared and confident, whether that means putting on that special occasion blazer or coming in with notes prepared. Beyond these helpful rituals, there are also powerful body language tricks you can employ to not only trick your mind out of its anxiety, but to simultaneously relay your engagement and intelligence in that space.
As Jessica Stillman shares in Inc, psychologist at UC Berkeley's Haas School of Business Dana Carney explains, "When we appear engaged with, stimulated by, and connected to what others are saying and doing, it tends to reflect our intelligence and it shapes others' perceptions of how smart we are." With so much of our meetings taking the virtual route, these tricks become increasingly important. So how do you seem more engaged and, therefore, more confident?
Carney recently published an article that runs through the most useful, research-validated body language tricks every leader should know. Here are her findings!
Lean In – "The more you lean in (literally) to another person as you are talking, the more intelligent you seem (and tend to be)."
Nod Along – "Nodding your head 'yes' as people speak is another indication of your interest and engagement and thus your intelligence."
Verbalize Your Interest – "Affirmative paralinguistic utterances such as 'mm-hmm,' 'yes,' and 'ah-hah' also signal and reflect intelligence."
In moments where anxiety holds us captive and becomes the captain of our mind ship, these communication strategies change the way anxiety manifests on the outside while also easing the anxiety of the person in front of you.
With that said, I want to remind you anxiety is not only normal but also a beautiful strength! Research shows us, as detailed by the New York Times, that anxiety improves performance, breeds conscientiousness, and helps you both recognize the problem and push you to plan for various outcomes.
There is strength in our most vulnerable emotions. Now you have some more tricks to embrace that wonderful power!
Much Love,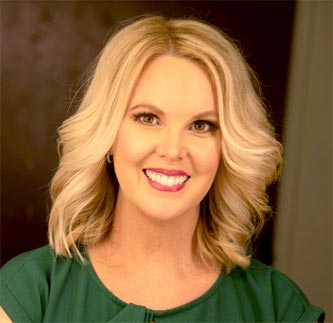 10 mistakes
even seasoned presenters make!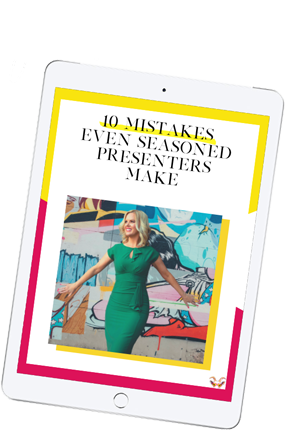 Your team's success depends on their ability to speak with clarity. Give them the tools to meet the moment with professionalism.
Take my 6-week on-demand course with live group coaching to deliver big messages that motivate and inspire.